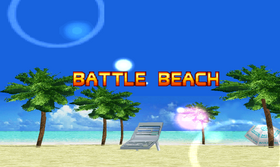 Battle Beach is a Mini Game in Ehrgeiz. It consists of three sporting events on a sunny beach.
Battle Dash
Edit
Run across the sand to the goal.
Battle Flag
Edit
Race to get the flag on the sand dune. Timing at the take-off line is the key.
Battle Hurdle
Edit
Jump over the obstacles and win the race.