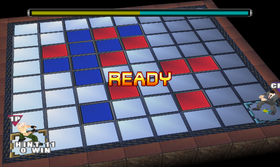 Battle Panel is a Mini Game in Ehrgeiz.
Place your panels on both sides of your opponent's panels to change them to your color. Random gray panels can become either color. Speed is the key to this game. Player can use tackle to hinder the rival.
Evil Panel
Edit
Evil Panel is more difficult version of Battle Panel, which can be unlocked after 10 consecutive wins over CPU in the Battle Panel Mini-Game. To select Evil Panel, hold L1,L2,R1,R2, while selecting Battle Panel.